*Disclosure: We only recommend products we would use ourselves and all opinions expressed here are our own. This post may contain affiliate links (denoted with *) that at no additional cost to you, we may earn a small commission. See our full disclosure policy here
Vegan Leather
Once aware of the disgusting and inhumane processes in the leather industry, you cannot switch them off.
In an effort to practice conscious and compassionate consumerism we are here to open your eyes to the world of guilt-free, fashion-forward vegan leather bags.
The Leather Industry
Though you might commonly associate leather with cows, it can actually be derived from sheep, goats, horses, crocodiles, snakes and many other animals.
After stripping the skin from the animal's carcass, it is soaked, washed and scraped of any excess fat and meat.
It is then chucked in a large barrel with numerous chemicals and deadly tanning agents to thicken it, making it more durable for consumer use.
Is it not a by-product of the meat industry?
No! This is a common misconception. In actual fact it is a co-product.
Every last part of the animal's corpse is sold in order to maximise profits.
When any business has multiple profit streams, we look at it as diversification, not as a by-product.
The skin will usually account for around 10% of the animal's "value" in today's capitalist environment.According to One Green Planet, this actually makes it the most valuable part 'pound for pound'.
The Bigger Picture
It's not only about this impact on animal rights but also the working conditions of humans and the broader environmental impact.
Not only does leather harm the animals, but it also hurts the environment and the workers who manufacture it, due to the toxic chemicals used in the production process.
The hazardous metals and chemicals used in the production process pollute the water, soil, and air.
"Apart from heavy metals like chromium, cadmium, lead and mercury, a conglomerate of chemicals are discharged by the tanneries into the environment," says Human Rights Watch in their 'Toxic Tanneries'Report (2012)
Skin diseases and respiratory illnesses have been documented worldwide in tannery workers.
"Workers aged eight and older are soaked to the skin, breathing the fumes for most of the day and eat and live in these surroundings throughout the year. Personal protective equipment [is] not provided."
Take a look for yourselves at the HRW Report 'Toxic Tanneries' for more details of the devastating impact of the industry.
The authors report that chronic skin and lung diseases were common amongst the workers after setting up health clinics to assess their conditions.
Brand Awareness
Brand awareness is imperative. We thrive from researching each potential purchase thoroughly to ensure that we know exactly what we're buying into and the process that we're supporting behind the scenes.
Conscious Consumerism
In order to ensure we are making conscious consumption choices, we like to consider the following:
Sustainability – What is the Brand's environmental impact?
Ethics – How does the Brand's behaviour impact Human Rights?
Slow fashion – How can we look at reducing consumption through our purchase?
Vegan – What is the Brand's impact on animal rights?
To delve deeper into these terms, take a look at our article on the differences between ethical, sustainable, vegan and slow fashion.
The Alternatives
With so many faux leather offerings on the market, there is no excuse to follow the outdated leather trend these days.
Natural innovative alternatives such as apples, pineapples, coffee, paper, cork, grapes and even mushrooms are being utilised. Resulting in cloth that can function just as well as, if not better than, it's gory leather counterpart.
After sifting our way through tonnes of vegan handbags currently on the market, we've come up with a shortlist of our top 10 brands:
Von Holzhausen
A broad collection featuring sleek totes, bold backpacks and sophisticated shoppers.
Catering not only for us animal-loving ladies, they also offer a stylish men's line of duffels, dopp kits and belts.
Slow Fashion
Timeless classic totes are the epitome of slow fashion. There is no need to mindlessly replace these staple pieces in order to keep up with the latest trends.
Simplicity is key here. They offer muted tones to compliment any outfit. It's a one bag fits all situation.
Utilising "Technik" leather alternative technology. This material maintains the look and feel of real leather and is just as long lasting.
Honest Pricing
You can only buy directly through their website. This cuts out the middle-man, enabling them to pay higher wages to the artisanal workers and ensuring ethical standards are maintained in their factories.
This also supports sustainability, the protection of the environment and ensures the production of premium quality products.
Giving Back
Von Holzhausen are currently collaborating with Hope Gardens, a charity located in the heart of Skid Row (the homeless hub of L.A).
The charity helps homeless women to regain their independence through their rehabilitation programmes and support services.
So you can indulge in some guilt-free shopping safe in the knowledge that our money is doing something good for the bigger social picture.

Matt and Nat
Committed to the cause since 1995, the brand's ethos is to "live beautifully" and in harmony with nature. They explore the synergy between MAT(erial) and (NAT)ure and their products demonstrate how the two can coincide perfectly.
The Product Line
Offering a vast collection of totes, belt bags, backpacks, cross-bodies, clutches, yoga bags and even diaper bags!
Matt and Nat have something for everyone. All from a sleek, gorgeous colour palette inspired by natural hues.
Oh – and they don't just stop at bags. Check out their website for shoes, jackets and menswear.
They even offer a pet range!
How are they made?
Constantly striving to better themselves and exploring innovative ways to provide us with sustainable and economic products. They have experimented with various recycled materials over the years from nylon, cardboard, rubber and cork.
Matt and Nat have been lining their bags with 100% recycled plastic bottles since 2007 and have now branched out into utilising recycled bicycle tyres
The range is expansive and pretty impressive. Their collections are timeless, of great quality and are pretty affordable. We can't fault them ourselves. Definitely worth a browse!
Wilby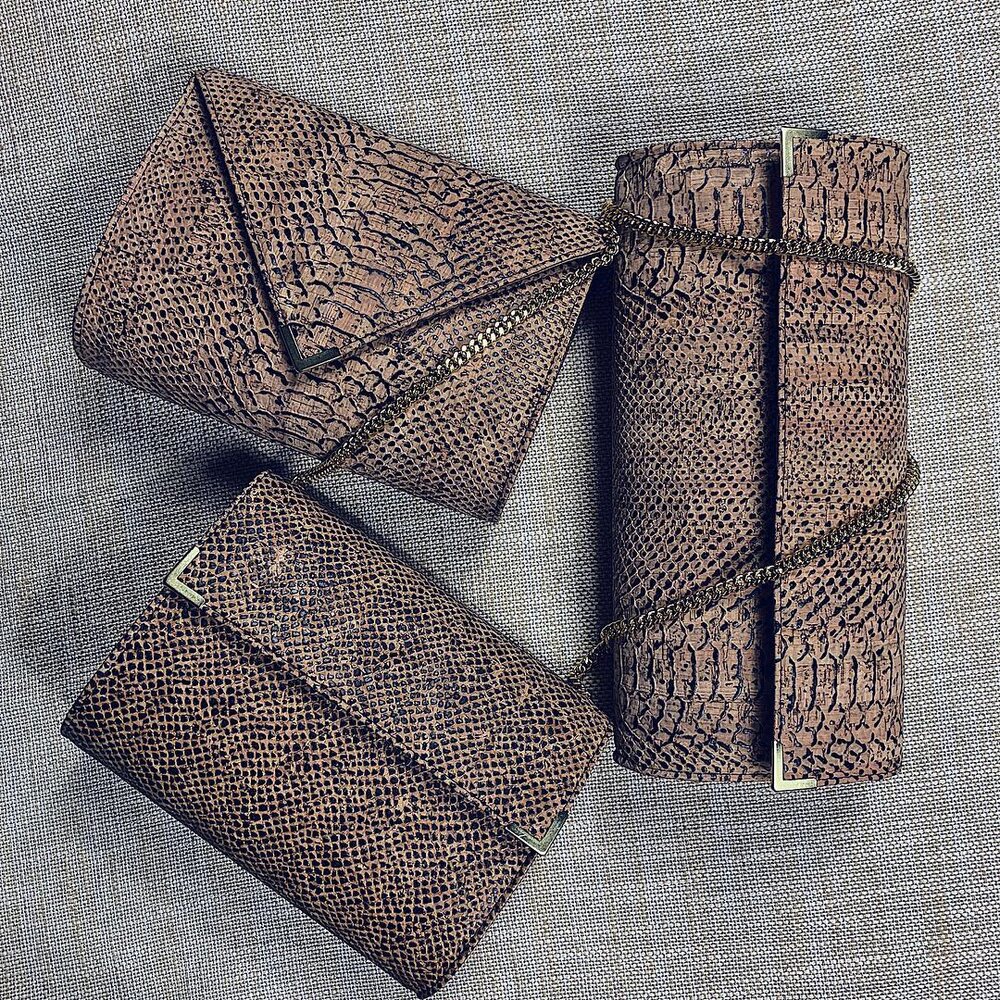 British born and bred. Wilby was conceived in Chelsea, London in 2013. They initially specialised exclusively in clutch bags.
The Collection
Since the brand has taken off, the range has branched out to trendy totes, bold backpacks and stunning satchels.
Offering timeless pieces that are smart, sleek and sophisticated. They are also PETA approved for your peace of mind.
One Bag Fits All
Their designs are strikingly simple, minimal and versatile. They make for perfect office attire, are the ideal accessory to a swanky night on the tiles, or can help you to ooze sophistication at a delectable dinner date.
The Concept
"There is no beauty in the finest cloth if it makes hunger and unhappiness."

Mahatma Ghandi
Enough said.
So what cloth do they use?
A variety of materials are used for their broad range. Including organic cotton and lining, recyclable cloth, eco friendly backing and cork vegan leather.
The British brand produces bags made from durable cork bark. This is ultra sustainable as it regenerates quickly once peeled from trees.
We recommend taking a look at their lightweight crocodile look 'vroc-skin' collection made from sustainable cork leather.
Sustainability Rating
To assist us even further on our quest to practice conscious consumerism, Wilby have included a sustainability rating for every product on their website.
We cannot fault their efforts.
Gunas
Here we have proof that the terms "ethical" and "luxury" can sit together comfortably. This is high-end cruelty-free fashion at it's finest.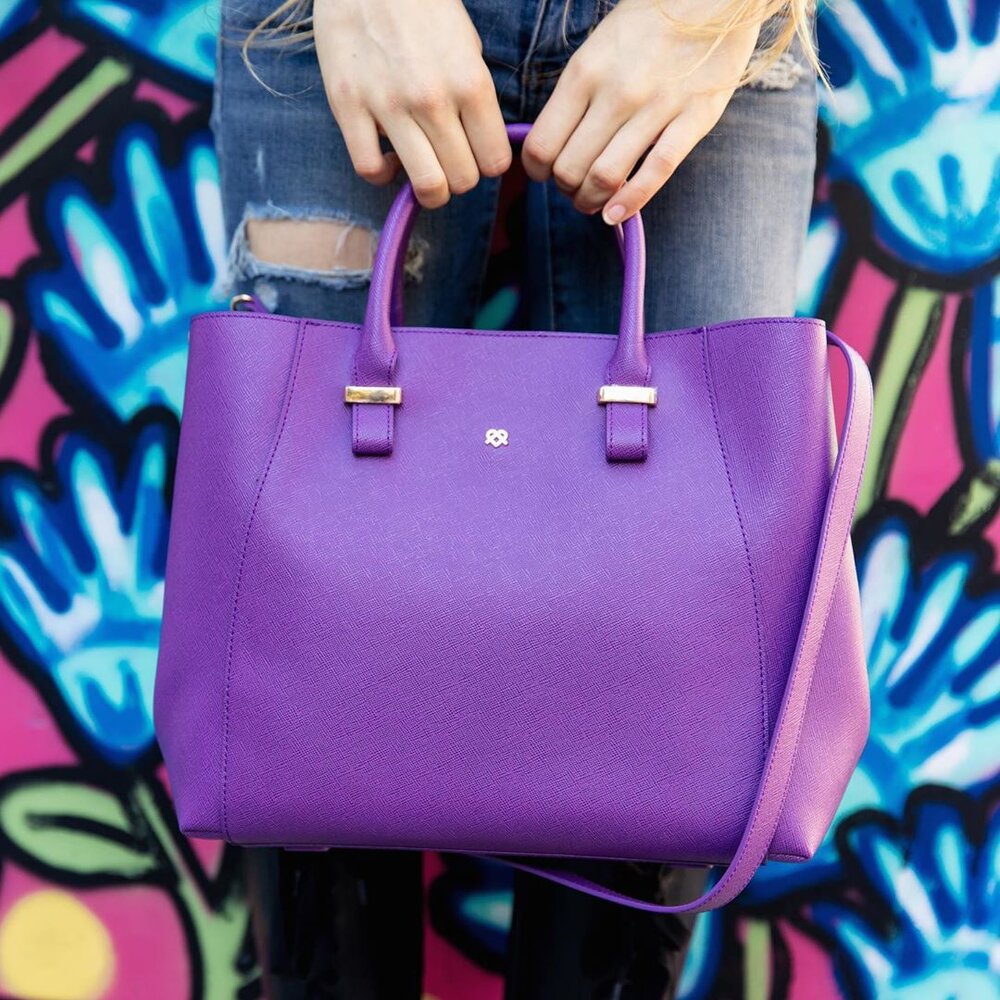 The Collection
Guna's offer a wide array of faux leather treats.
From shoulders to satchels, backpacks to buckets, top handles to totes. They've got it covered.
Providing us with seamless style for every occasion. We love their signature "Naomi" tote and "Cougar" quilted backpack. These staple pieces are stunning and sophisticated .
High-End Fashion
The brand is endorsed by celebs such as Jennifer Lawrence, Miley Cyrus and Eva Longoria. It's featured in Vogue and on Netflix. We can see why.
Guna's make it easy to practice compassionate consumerism.
"Faux leather"…
So what materials do they use?
…"a variety of fabrics including coated canvases, nylons, eco-polyurethane, ultra-leather, ultra-suede and up-cycled polyester for linings."
Basically every last detail, right down to the custom logo hardware, is recycled.
Manufacturing?
Initially they produced solely in New York but since hitting the ground running, their fast growing reputation has swayed them to outsource to sustainable sweat-shop free factories across the globe.
They are PETA certified so rest assured that they are operating under cruelty free terms.
Bag for Life
Guna's don't skimp on quality. Their products are both practical and visually stunning. Your one time buy will last a lifetime.
Slow fashion…. Check!
Moshi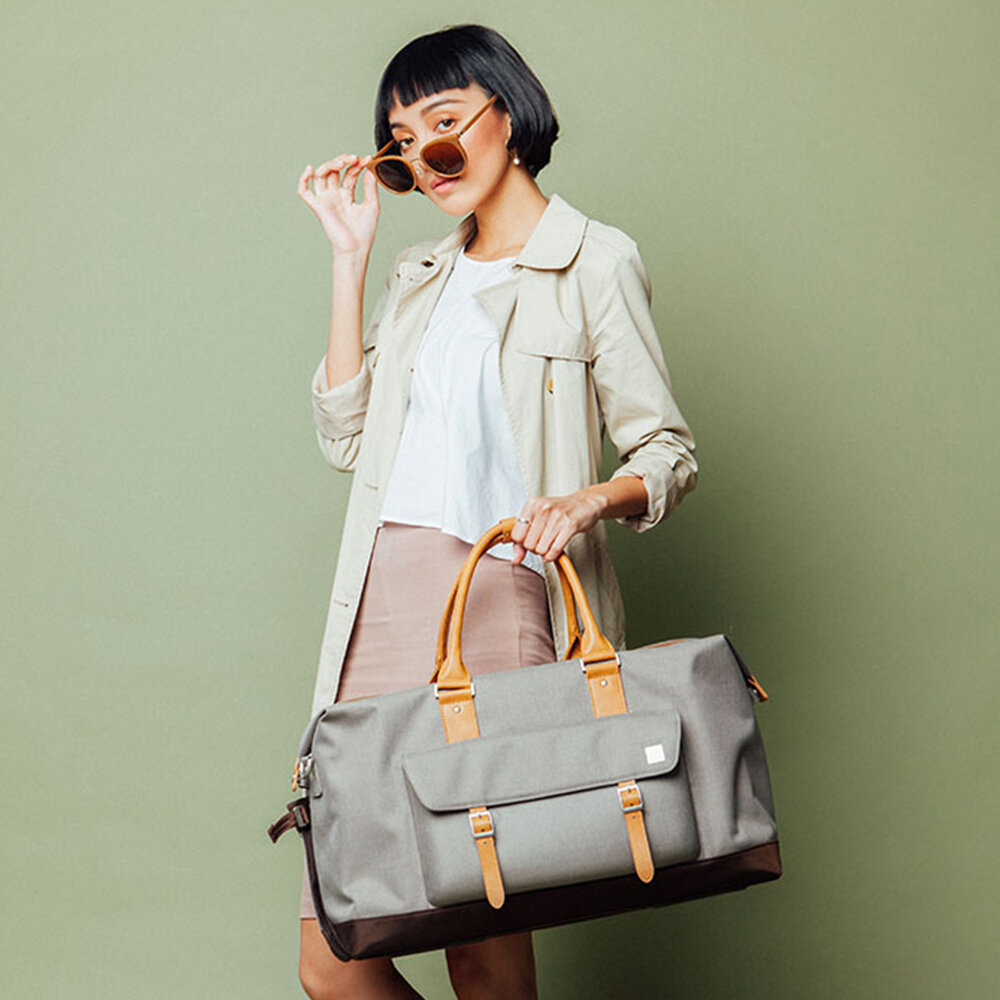 This is one for those high-end, high tech, globe trotting Digital Nomads amongst us.
Specialising in anti-theft backpacks and gadget protecting cases, Moshi takes practicality to a new level!
Catering for the modern day traveller, the brand offers a broad array of laptop sleeves, camera bags, briefcases and carry ons.
It's not all travelling tech-geek though. They also offer a range of trendy totes and backpacks.
The Look
The entire collection does not compromise on looks and is pretty fashion forward. Sleek and minimalist. It screams sophistication.
Their Ethos
A true patron of Slow Fashion. They vow to create fewer, better products.
But how?
Quality over Quantity
This ethos guides them in selecting the finest materials to ensure their products exceed both quality and performance expectations.
To ensure such quality all Moshi products are backed by the Industry's first 10-year Global Warranty.
They are obviously built to last.
How exactly can we argue with that?
It is clear that Moshi stand against excessive consumerism and that they are doing all they can to mitigate their impact on the environment wherever possible.
This can be traced right down to the fine details of their sustainably sourced packaging that is printed with soy ink!
Moshi are a brand that promotes the fact that we really should appreciate the finer things in life. If you fancy treating yourself, we reckon a staple piece from Moshi's collection is definitely the way forward.

Urban Originals
Designed in Australia and based out of Sydney and LA, Urban Originals provide pieces that are incredibly pleasing to the eye.
A Vast Selection
The brand offers a huge variety of crossbodies and totes. They also have collections of weekend bags, beach bags, clutches, wallets and offer a unisex range.
It's easy to get sucked into their catalogue as you really are spoilt for choice. Another brand with a bag for every occasion.
The Cloth?
They use polyurethane, cotton canvas and recycled nylon.
And the Production Process?
The bags are designed in Sydney and produced in China. Urban Originals claim to personally visit their factories to ensure ethical working conditions. The workplaces are also endorsed by Sedex – one of the world's leading ethical trade NGOs, who work to improve working conditions in global supply chains.
Social Responsibility Programme
10% of Urban Original's profits are donated to Human Trafficking charities. It's good to know they are also looking at the bigger picture and that you are actively contributing via your purchase.
Jeane & Jax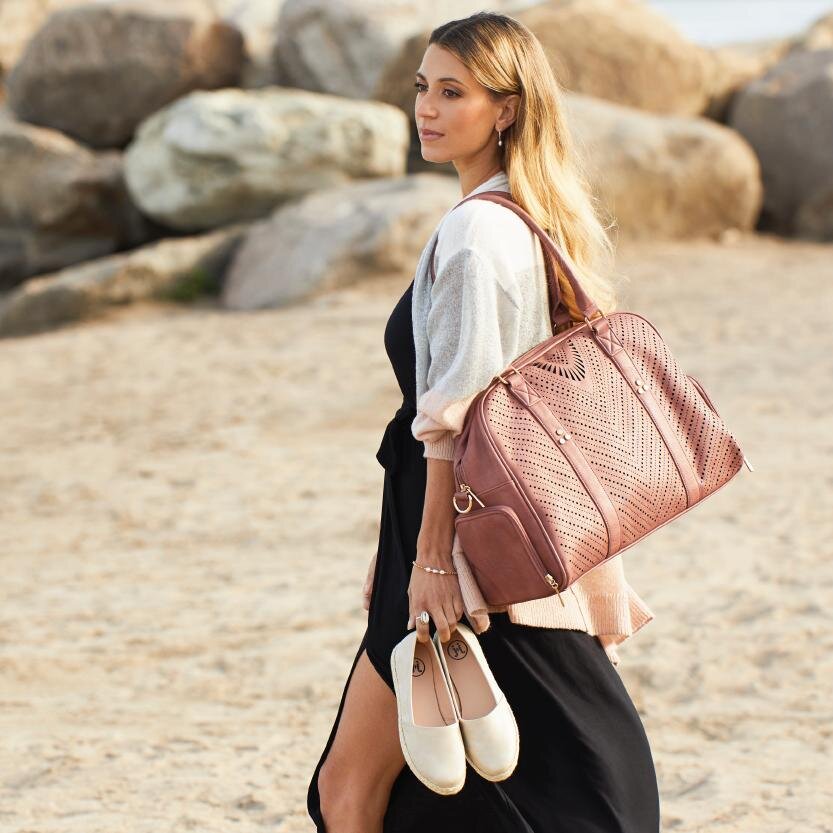 We LOVE this brand. Their cute soft boho backpack and vegan leather zip fold hobos. They also offer footwear collection. Simple slides, sneakers and espadrilles to perfectly compliment your 'over the shoulder'.
On Trend
Jeane & Jax was born in Montreal. The artistic flair of this multicultural city has clearly influenced these pieces.
The stylish and casual bags represent quality ethical fashion at affordable prices. The line is simple, stylish and versatile, perfectly complimenting any mood or outfit.
Ethically Sourced PU Fabrics
The brand's materials are 100% animal free. The polyurethan comprises microfiber pores, this ensures the bags are breathable and remain supple. Not only do they look and feel like real leather, but they are just as durable and water resistant.
Another example of good quality simple statement pieces that you cannot go wrong with. Hats off Jeane & Jax!

Alexandra K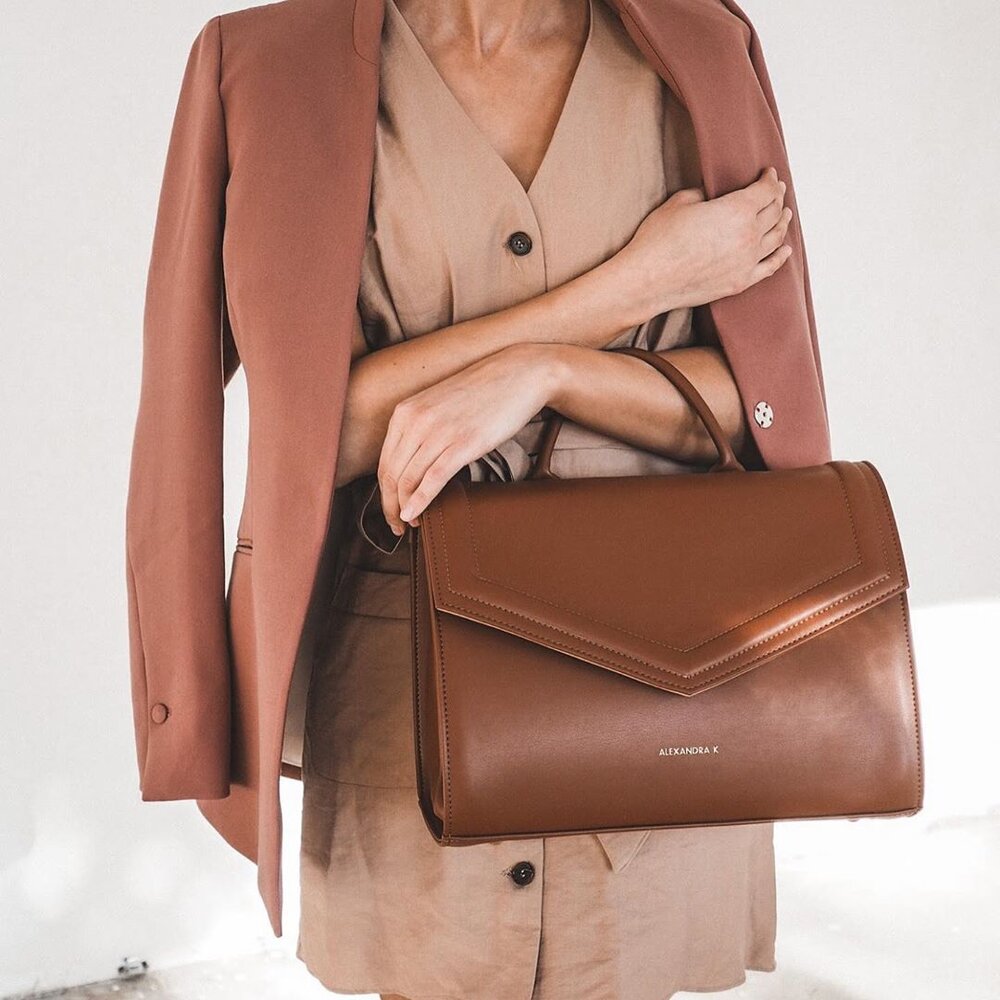 Innovative fabrics and designs are offered by this Polish brand. Founded in 2014 and specialising exclusively in vegan handbags and accessories, they clearly know their stuff.
Unique Plant-Based Pieces
Each bag is made in Poland from materials such as apple, pineapple, corn leather and many other vegetable fabrics. They are constantly experimenting with new components and the results are truly special. The pieces are all unique and come stamped with their own personal serial number.
Ethically Endorsed
The designs are not only vegan, but their production is assured to be organic and safe for the planet.
The brand is PETA approved and Alexandra K claims to check every stage of the production to make sure each and every last component is eco-friendly.
Award Winning Designs
The brand has been awarded numerous "Best Vegan Bag" titles for their innovative apple leather designs at the PETA Fashion Awards.
Check them out and see for yourself.
LaBante
This luxurious London-born Brand is clearly committed to ethical and sustainable fashion.
The Company Ethos: "Fashion with respect"
…and respect they shall receive for their admirable efforts in sustainability and upcycling.
Bags from Bottles
An average of 7 plastic bottles are used in each of their handbags. Saving over 10 million bottles from reaching landfill to date.
Other materials such as lux polyurethane, microfibre and recycled vegetable oils go into the making of these beautiful bags. No animal based dyes, glues or nasty chemicals hinder the process.
The Collection
Hobos, crossbodies, clutches and laptop bags. Their website is brimming with elegant, timeless, statement pieces.
The ranges are available in bold and pastel colours and are up to date with seasonal trends.
It looks as though they may also be branching out into the world of vegan leather jackets soon. We can't wait to see what they've got up their sleeve.
Hozen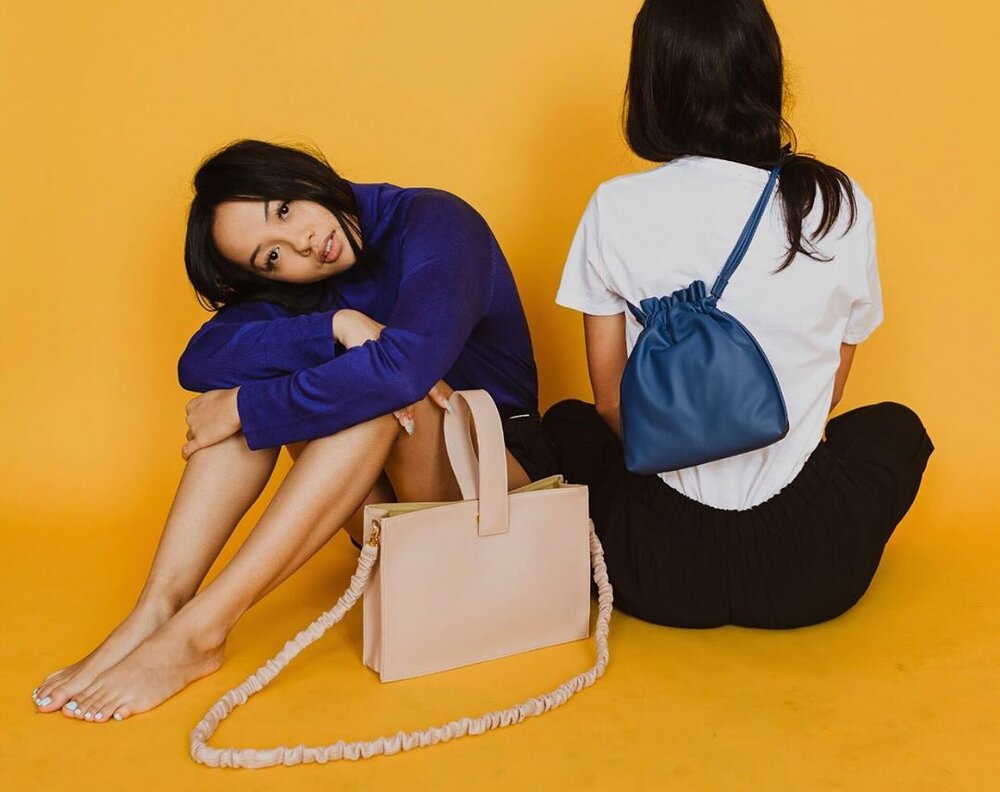 Last but by no means least, we have Hozen. Japanese for conservation, this brand is luxury rooted in sustainability.
The philosophy: "doing good can look as good as it feels"… and the proof is in the pudding.
Their bold, statement pieces are loud, fun and playful.
Signature heart shaped and circular crossbodies that come in an array of vibrant colours.
Complimentary colour blocked totes that are sure to set anyone apart from the crowd.
The Technology
Utilising Pinatex technology, Hozen uses biodegradable pineapple husk fibres for their "leather". The end product is beautifully soft and durable.
They also use Bio Polyoil (grain-based) suede, organic cotton twill linings and 100% post-consumer recycled plastic for their zippers and thread.
They've got every component covered. Utilising natural rubber, remnant rope and recycled cotton labels. It all comes packaged in recycled paper.
Every last detail is completely eco-friendly.
Sustainability
All of Hozen's products are ethically crafted in small batches at a fair wage factory in Los Angeles.
Each product is accompanied by an "I Made Your Bag" card, which features the smiling face of the maker whose hands crafted it.
Their innovative technology, transparency and attention to detail put Hozen up there in the vegan bag game.
Vegan Leather Bags: The Verdict
So there you have it. Ten ethical, sustainable, vegan leather bag brands for your pickings.
We believe it is our personal responsibility to be compassionate and conscious when it comes to considering our wardrobe choices.
From the evidence above it is clear that style and quality do not have to be compromised in the name of ethical and sustainable fashion.
Brands respond to consumer demand, so why not contribute in shifting more towards vegan fashion.
We have sifted through and checked out the eco-credentials of all the brands covered. So now you can shop guilt-free, safe in the knowledge that you are helping rather than hindering the environment.